Skin Republic Spots + Blemish, Anti-spot & Pore refining face mask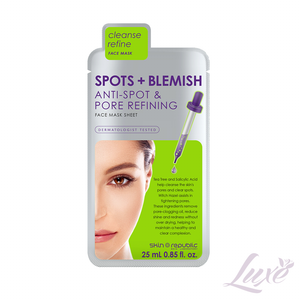 Skin Republic Spots + Blemish, Anti-spot & Pore refining face mask
Regular price
Sale price
£4.95
Get it by:
Sep 22
-
Sep 23
Guaranteed safe & secure checkout
This Skin Republic Spots + Blemish Face Mask is enriched with Tea Tree and Salicylic Acid to help cleanse the skin's pores, clear spots and prevent breakouts. Witch Hazel assists in tightening pores and stabilising the barrier function of the skin. These ingredients remove pore-clogging oil, reduce shine and redness without over-drying the skin, helping to maintain a healthy and clear complexion. Skin Republic sheet masks are easy to apply and perfectly contoured; no messy clean up required. The Skin Republic range is cruelty-free and never tested on animals.
The Benefits of Using a Sheet Mask:
Sheet masks utilise a Transdermal Delivery System that ensures nutrients, nourishment and moisture are delivered deeply and effectively. Their breathable, 'second
skin' nature allows for faster absorption than traditional masks and creams. They are also more hygienic and mess-free!
This mask really helped my breakouts. I suffer really bad with my skin and have tried all sorts over the years. I found this helped calm my skin
Love this mask! Really makes my face look & feel amazing!
This mask really helped my breakouts. I suffer really bad with my skin and have tried all sorts over the years. I found this helped calm my skin