Skin Republic Brightening Vitamin C Face Mask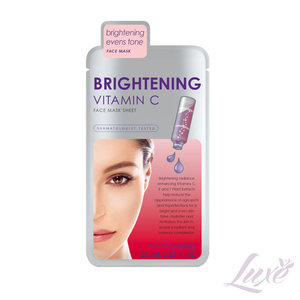 Skin Republic Brightening Vitamin C Face Mask
Regular price
Sale price
£4.95
Get it by:
Sep 22
-
Sep 23
Guaranteed safe & secure checkout
This Skin Republic Brightening Vitamin C Face Mask is perfect for revitalising and brightening your skin. It is infused with radiance-enhancing ingredients Vitamin C, E and 7 Plant Extracts to help reduce the appearance of age spots and imperfections for a bright and even skin tone. This mask also supplies hydrating nutrients to reveal a radiant and luminous complexion. This mask is most effective when used twice a week for the first month and then as needed. Skin Republic sheet masks are easy to apply and perfectly contoured; no messy clean up required. The Skin Republic range is cruelty-free and never tested on animals.
The Benefits of Using a Sheet Mask:
Sheet masks utilise a Transdermal Delivery System that ensures nutrients, nourishment and moisture are delivered deeply and effectively. Their breathable, 'second
skin' nature allows for faster absorption than traditional masks and creams. They are also more hygienic and mess-free!
Brilliant
This mask is great and definitely brightens your skin