OLAPLEX Healthy Hair Essentials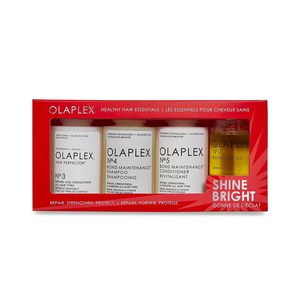 OLAPLEX Healthy Hair Essentials
Regular price
Sale price
$78.00
Get it by:
Dec 03
-
Dec 04
Guaranteed safe & secure checkout
Treat your hair to the Olaplex Healthy Hair Essentials Kit. The four-step collection offers a complete hair care routine, powered by the brand's patented bond-building technology, to promote stronger and healthier-looking hair.
In this kit you will get:
OLAPLEX No.3 Hair Perfector 100ml
A conditioning treatment designed to rescue and restore damaged hair as a result of colouring, bleaching and styling. Formulated with a bond multiplying system, it works to minimise the risk of split ends and breakages.
OLAPLEXNo.4 Bond Maintenance Shampoo 100ml
A gentle shampoo that works to cleanse and hydrate hair, while Olaplex technology helps to strengthen. The sulphate-free formula resists dryness, colour fading and oxidation, leaving your hair feeling refreshed and glossy.
OLAPLEX N°5 Bond Maintenance Conditioner 100ml
A hydrating conditioner targeting frizz. split ends and breakages caused by frequent colouring, bleaching, chemical treatments and heat styling. It helps to strengthen damaged hair and improve vibrancy.
OLAPLEX No.7 Bonding Oil 30ml
A nourishing hair oil designed for use during styling to help tame frizz and flyaways and add a glossy shine. It works to replenish dry and damaged hair while providing heat protection of up to 232°C to help reduce the risk of damage.

Order
Order not received as yet
Order
Order not received as yet